In my everyday work, I do a lot of keyword research. So it's only natural that I want to have the best tools in my arsenal.
There are quite a few articles listing the best keyword research tools, but only some of them provide solid arguments why one tool is better than the other.
Since it's almost the end of the year, we decided to revise our recent test of the best keyword research tools so that you could pick the best solution to use in 2018.
What are the criteria for the best keyword research tool?
As I already said, I do keyword research all the time. Based on my experience, I suggest 5 main criteria for the perfect keyword tool:
It must find/suggest as many relevant keywords as possible
It must be able to trim down huge keyword lists easily
It must show a search trend for a keyword
It must have a reliable keyword difficulty score
It must have a good

SERP

analysis
Why not Google Keyword Planner?
A lot of people still believe Google Keyword Planner is an excellent tool for keyword research. While it's not.
GKP is a specialized tool for PPC advertisers and is not really supposed to help with organic keyword research. Already back in 2012 Rand Fishkin warned us to be careful using AdWords for keyword research.
Then one day Keyword Planner started to combine search volumes for similar keywords and phrases. That move was quite reasonable for PPC keyword research, considering the Ad will be shown for any keyword in such group. But without individual search volumes, GKP became useless for organic keyword research.
If you still think GKP would do, check out these articles:
Keyword research tools showdown
There are quite a few tools that collect their keyword databases in different ways. Some scrape Google autocomplete and "related searches." The best-known examples are:
Answerthepublic.com
Infinitesuggest.com
Ubersuggest.io
Soovle.com
We did not test such tools because the number of suggestions they give is very limited and because they usually don't give any kind of "statistics" about the keywords they spit out. They might be fun to work with and useful in some cases, but we don't think they fall into "professional tools" category.
There are a few advanced tools that use various sources for their keyword databases, including clickstream data, which is the biggest source of keyword suggestions today. The role of clickstream in SEO just keeps on growing day to day.
Such tools let you dive into their database and give you a plethora of keyword suggestions as you enter a seed keyword or phrase.
Further, you filter and process this list based on various keyword metrics and keyword difficulty to pick the best.
Long story short, here's the table that compares some of the most popular keyword research tools on the market today:
Tool
Keyword suggestions
Data filtering
Search volume trend
Keyword difficulty

SERP

analysis
Ahrefs
Excellent
(5/5)
Great
(4/5)
Great
(4/5)
Excellent
(5/5)
Excellent
(5/5)
KWFinder
Average
(2/5)
Great
(4/5)
Excellent
(5/5)
Excellent
(5/5)
Great
(4/5)

MOZ

Average
(2/5)
Excellent
(5/5)
N/A
(0/5)
Excellent
(5/5)
Average
(2/5)
SEMrush
Great
(4/5)
Great
(4/5)
Good
(3/5)
Poor
(1/5)
Poor
(1/5)
Serpstat
Good
(3/5)
Average
(2/5)
Good
(3/5)
?
(?/5)
Average
(2/5)
Long Tail Pro
Average
(2/5)
Good
(3/5)
N/A
(0/5)
Great
(4/5)
Good
(3/5)
Now let me show you what stands behind these results.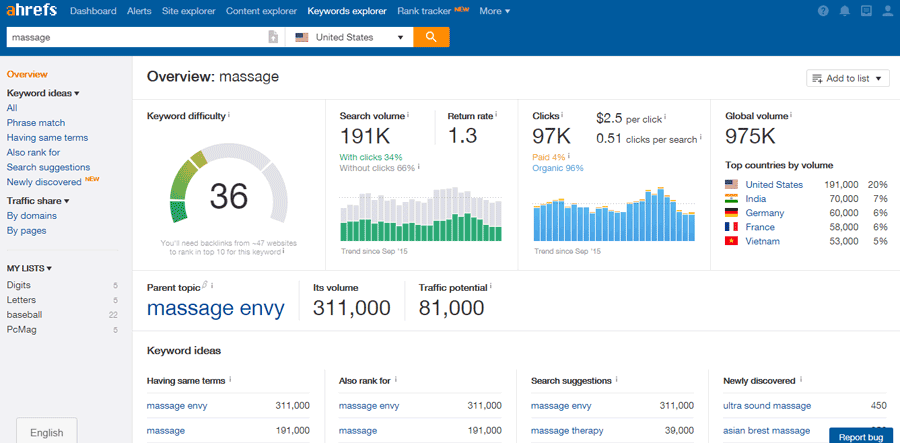 Number of keyword suggestions*: 5/5
Suggested: 892,576 keywords
Ahrefs pulled the maximum number of keyword suggestions and left all other tools far behind. Ahrefs' Keyword Generator is powered by clickstream data and updates its database with fresh keywords every month.
Data filtering*: 4/5
Ahrefs allows you to filter the whole list of keyword suggestions by search volume and keyword difficulty. These two metrics are cached and always available for the entire database of keywords.
This tool has also got some unique keyword metrics (and thus filters) for the list of keyword suggestions not found in other tools such as:
Clicks
Clicks Per Search
Return Rate
But they will only be pulled after you click "Get metrics" button.
Search volume trend*: 4/5
Not only this tool shows the search volume trend starting from September 2015, but it also breaks it down further based on whether the searches result in actual clicks.
Search volume trend graphs is a visualization and does not show the search volume numbers for the past months.
Keyword difficulty*: 5/5
Keyword difficulty calculation in Ahrefs Keywords Explorer is entirely based on the backlink profiles of the top10 pages in SERP and nothing else. Yet we've found that Ahrefs offers the most reliable metric over any other tool.
SERP

analysis*: 5/5

A very detailed SERP analysis. Ahrefs will show you the accurate backlinks numbers for the search results. You can also see the SERP features (if any). And it's the only tool that shows how much search traffic the top ranking pages are getting (from all the keywords they rank for, not just from your target keyword).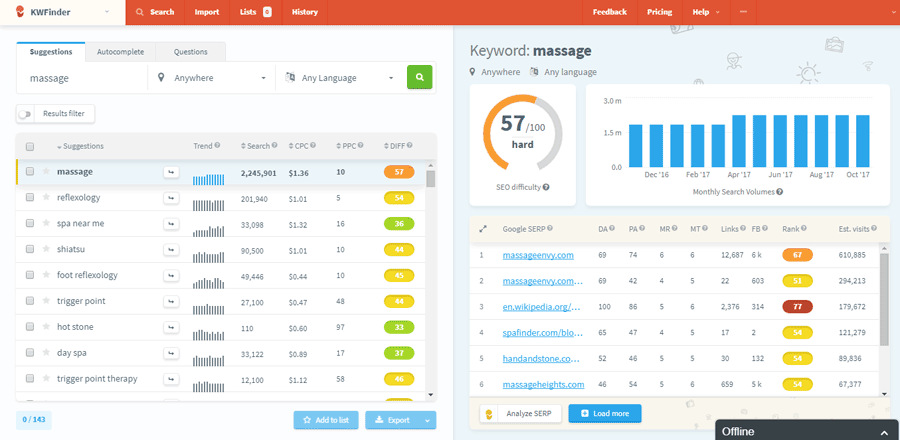 Number of keyword suggestions*: 2/5
Suggested: 954 keywords
The tool has 3 types of keyword ideas: suggestions, autocomplete, and questions, so I summed them up (after filtering out the duplicates).
Sidenote.
KWFinder caps keyword suggestions at 200 or 700, depending on your plan.
Data filtering*: 4/5
Filtering with KWFinder is a breeze. There's just one drawback: keyword difficulty data isn't instantly available for every keyword unless it's been requested by any user previously (unlike Keywords Explorer from Ahrefs which shows keyword difficulty for all the keyword suggestions).
Search volume trend*: 5/5
The search volume trend is nicely laid out in organic KWFinder style with all the data you'd expect.
Keyword difficulty*: 5/5
They calculate it based on SEO stats (DA, PA, MR, MT pulled from MOZ) of the pages on the first page of Google.
In my work, I found KWFinder's SEO difficulty metric to be surprisingly accurate. Plus, it is easy on the eyes.
SERP

analysis*: 4/5

KWFinder's SERP analysis is super simple and easy to digest. However, they're using backlink data from MOZ, which is not a perfect source. Maybe they should think about switching to Majestic API.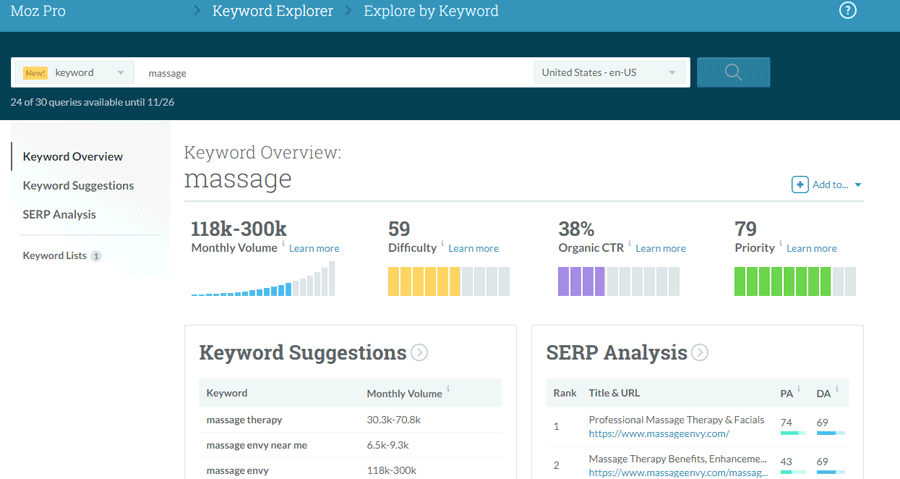 Number of keyword suggestions*: 2/5
Suggested: 1,000 keywords
Sidenote.
Moz has a limit of 1,000 keyword suggestions for any seed keyword.
Data filtering*: 5/5
Although filtering options in a tool from MOZ felt somewhat limited, they provide exclusive semantic filters and grouping.
Search volume trend*: 0/5
Does not provide 'search volume trend' data.
Keyword difficulty*: 5/5
Moz uses their Page authority and Domain authority metrics of the top ten pages ranking for a keyword to calculate keyword difficulty.
Their difficulty score performs really well, I must say.
SERP

analysis*: 2/5

Moz provides only minimal data for the top10 search results such as PA, DA, and number of referring domains. Besides you have to do FAR too much scrolling down to see all positions.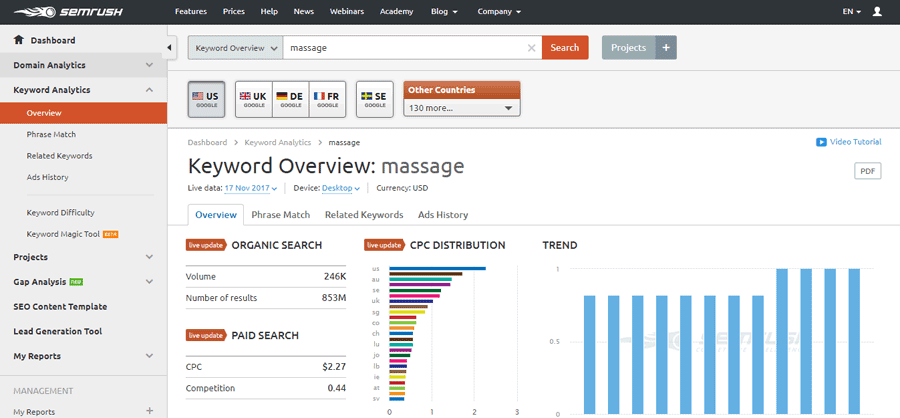 Number of keyword suggestions*: 4/5
Suggested: 440,273 keywords
An excellent result considering this tool (Keyword Magic) is still in Beta. However, it's only 40% of the number of suggestions from Ahrefs.
Data filtering*: 4/5
SEMrush meets all the expectations in terms of the data you'd expect to filter. Not bad at all.
Search volume trend*: 3/5
A good standard trend graph covering a period of the past 12 months. It does not show you the search volume numbers for the past months but rather gives you decimal score, where 1 stands for the month with the highest search volume.
Sidenote.
To see the search volume trend you have to leave Keyword Magic Tool and go to Keyword Analytics -> Overview section
Keyword difficulty*: 1/5
As explained in their knowledge base, SEMrush takes into consideration the authority of the domains that are showing up on the results page to determine the keyword difficulty.
In most cases, their KD score is just plain wrong (based on our experience). This is probably one of the biggest weaknesses of SEMrush as a keyword research tool in my opinion.
Sidenote.
I had a discussion with SEMrush team about their keyword difficulty. They acknowledge this problem and are reworking it now.
SERP

analysis*: 1/5

SEMrush simply shows you a cached Google's SERP for a given keyword with no data about the ranking pages.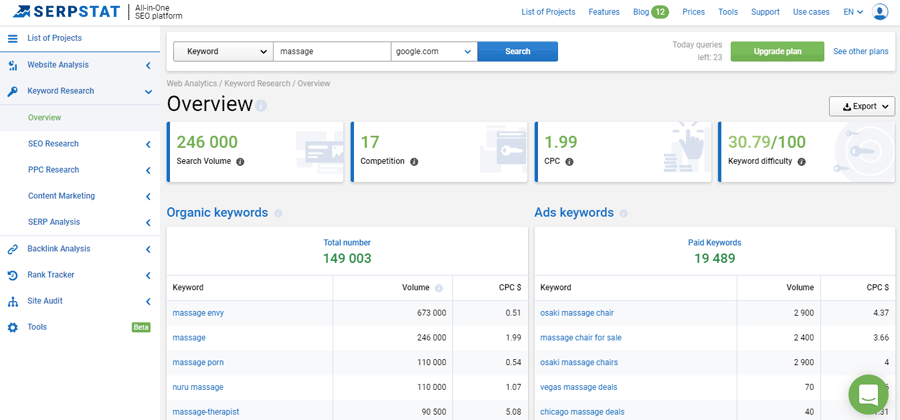 Number of keyword suggestions*: 3/5
Suggested: 149,003 keywords
Serpstat offered a good number of keyword suggestions. Around 35% of what SEMrush shows.
Data filtering*: 2/5
Provides some good filtering options. But you can't filter or sort a list of suggestions by keyword difficulty.
Search volume trend*: 3/5
Leverages the power of an embed from Google Trends. Yet, it does give you an overall picture of the search term's popularity over time.
Keyword difficulty*: ?/5
Serpsat estimates their keyword difficulty based on a number of various factors, such as backlink profiles of the top10 search results, their Page Rank and Trust Rank, and on-page factors such as keywords in title and URL.
This metric was added to Serpstat in June 2017 and we did not test it hard. So, unfortunately, I can't give you my conclusion here.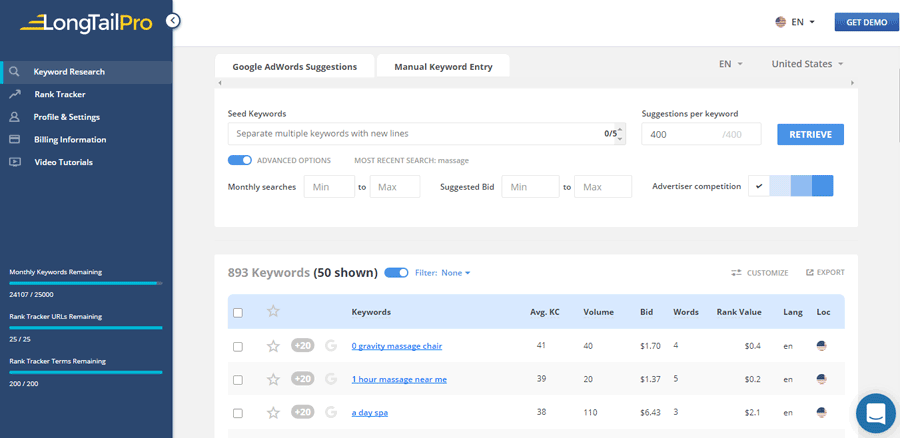 Number of keyword suggestions*: 2/5
Suggested: 893 keywords
A reasonable number of suggestions, but due to limitations in "Max results per seed keyword" I had to run their "Google AdWords Suggestions" report multiple times.
Data filtering*: 3/5
Quite a few filtering opportunities, but the interface could probably use some improvement. As for me, it is a bit slow and clunky.
Search volume trend*: 0/5
Does not provide 'search volume trend' data.
Keyword difficulty*: 4/5
Keyword Competitiveness in this tool is calculated using the page title, Majestic Trust Flow and Citation Flow, links, and other factors of top 10 results found on Google.
Keyword difficulty score from Long Tail Pro was the second most accurate one after Ahrefs in our keyword difficulty test.
SERP

analysis*: 3/5

Plenty of solid data. The downside of their SERP analysis is that it forces you into a new browser tab.
A few words about the criteria used above
I suppose I have to add a few words about the criteria I used to grate these amazing tools: why I used exactly these and what I expected from every tool.
Number of keyword suggestions
Generally, the more keywords you have to work with, the more likely you are to find the gems.
The only fair way to compare keyword tools based on suggestions number is to run the same query through each and record the results.
I used the keyword "massage". (That was actually one of the first words that came to mind. I could really use a massage right about now…)
The keyword suggestions count was pulled on 17 Nov 2017. And since these keyword tools regularly update their databases, you will probably get a slightly different number if you run a similar test today.
Data filtering
A huge list of keyword suggestions is only a starting point for a keyword research. Further on you need to filter this list effectively, otherwise, you're just biting off more than you can chew.
A good keyword tool must provide easy filtering options. And no matter what other keyword metrics these tools have, search volume and keyword difficulty are a must.
Search volume trend
Now that you have some keyword gems after filtering down a list of keyword suggestions, you need to do individual keyword analysis.
It is essential to have the keyword search volume trend over time to see if the searcher's interest is rising or fading and if seasonality influences it.
Keyword difficulty
This section requires some extra talk.
Today every good keyword research tool has some form of difficulty or competitiveness score (do not confuse it with 'Competition' in GKP which only applies to ads).
This metric must show you how hard it would be to rank for any given keyword. With it, you can easily filter a huge list of keyword suggestions and find those easy to rank for.
Most SEOs estimate keyword difficulty based on the backlink data of the pages in top search results. But different tools may have their own approaches.
The rates above are based on my own experience in keyword research and further ranking for many keywords. Besides, it incorporates data from our Keyword Difficulty Test.
That's why Ahrefs gets 5/5, not just because it's my personal favorite SEO tool.
If you still think I'm just biased towards Ahrefs, here's another keyword difficulty study carried out by Kelvin Mah from Humanproofdesigns recently:
Which Keyword Difficulty Checker Is The Most Accurate?
Ahrefs wins there as well.
SERP analysis
This one has a lot of weight for me.
Keyword difficulty can help you narrow down your huge lists of keyword suggestions. But it won't replace the manual review of the SERP. This is why a good keyword tool should not only give you a fairly reliable keyword difficulty score but also give you enough data to dig in once you have identified potential gems.
Summary
You saw the results of our test. However, there are more things to consider when picking a keyword research tool. All in all, your choice must depend on the level of your SEO knowledge and the job you're looking to accomplish.
Ahrefs is a tool for experienced SEOs who will make use of every detail they can get, while KWfinder is a perfect choice for someone who's just starting out, considering its money/value ratio.
I'm a long-time user of Ahrefs, so it may seem that I'm biased. But, in all honesty, I love my business and my bank account more than any SEO brand. So if some other tool will help me better than Ahrefs, I'll switch immediately.