A detailed analysis of Disney's content marketing strategy for 'The Force' Awakens with actionable takeaways you can implement in your own campaign.
You may have heard there is a new Star Wars movie coming out next week.
Sorry, let me repeat that…
There is A NEW STAR WARS MOVIE COMING OUT NEXT WEEK!
Yeah, you can probably tell that like most 30 somethings I'm a 'little bit' excited about this — in much the same way that Rome had a 'little bit' of an Empire.
But even if you're not a Star Wars super fan, I bet you an original 1980s Han Solo action figure you know all about the film's impending release.
Because quite frankly, Disney and Director J.J. Abrams have played a blinder with their marketing for The Force Awakens.
In fact the way they have drip fed information about the film and built excitement over the past couple of years is arguably one of the best examples of content marketing of ALL TIME.
This is a bold claim to make, so allow me to elaborate.
Content Marketing Defined
Google's knowledge graph (scraped from here because Google are allowed to do that…) defines content marketing as:
"a strategic marketing approach focused on creating and distributing valuable, relevant, and consistent content to attract and retain a clearly‐defined audience — and, ultimately, to drive profitable customer action."
In a moment, I will dive into the content itself, but first let's focus on the final 5 words of that definition:
"to drive profitable customer action"
If this is the ultimate goal of any content marketing strategy, then it is safe to say that Disney has knocked it out the park.
The Force Awakens looks set to break every box office record going:
Pre‐sales: The film has already taken over $50million in advance ticket sales, smashing the previous record held by 2012's 'The Hunger Games'.
Opening Weekend: The film is almost certain to have the biggest opening weekend of any December release (held by 2012's The Hobbit: $86.4million) and may trouble the overall record held by this year's Jurassic World ($208.8 million).
Total Takings: Many experts are predicting that The Force Awakens will go on to top Avatar's record $2.7billion worldwide takings. Indeed some believe it could break through the $3bn barrier.
So in terms of dollars and cents return, Disney has crushed it.
Content Is Not Just 5,000 Word Articles Or Blog Posts
A quick point.
The "content" part of content marketing can take on many different forms. There are far too many to list here, but to give you some ideas, here are 15 suggestions that Neil Patel included in his excellent post 15 Types of Content That Will Drive You More Traffic.
Infographics
Memes
Videos
Guides
Book reviews
Opinion posts (a.k.a. "Rant")
Product reviews
How‐tos
Lists
Link pages
Ebooks
Case Studies
Podcasts
Interviews
Research and original data
Content can be anything from a simple image, to a 20,000 word essay — the key is that the content, whatever form it takes, grows your brand and connects with your audience.
The more types of content you use, the more powerful your content marketing efforts become. Content, regardless of its form, speaks to an audience. That audience, in turn, listens, shares, learns, and converts.
Neil Patel, Quicksprout
So let's look at how Disney has done just that with its incredible marketing campaign for The Force Awakens.
Part 1: First Pictures From Production
&

Casting

When Disney purchased Lucas Film in 2012 for $4billion and started planning a new series of Star Wars movies, they gave George Lucas the opportunity to pitch his ideas.

It's not known exactly what storylines Lucas pitched, but Disney's response would suggest that the disastrous (at least in terms of fan/critical acclaim) prequels of the late 90s/early 2000s were weighing heavily on their minds. Lucas recently revealed that:
"The issue was ultimately, they looked at the stories and they said, 'We want to make something for the fans' "
Disney knew that Star Wars fans whose childhood had been stomped all over in 1999 had concerns that the same thing would happen all over again.
So when it came to releasing the first picture from production, it was essential to reassure fans that the new films would be a return to the Star Wars that they knew and loved.
You can bet they spent a long time deliberating over the first photo to release online and when they finally unveiled the image in November 2013, they nailed it in 2 ways:
1. The picture (below) included fan favourite

R2‐D2

2. Going a step further, they revealed that the new

R2‐D2

was in fact fan made.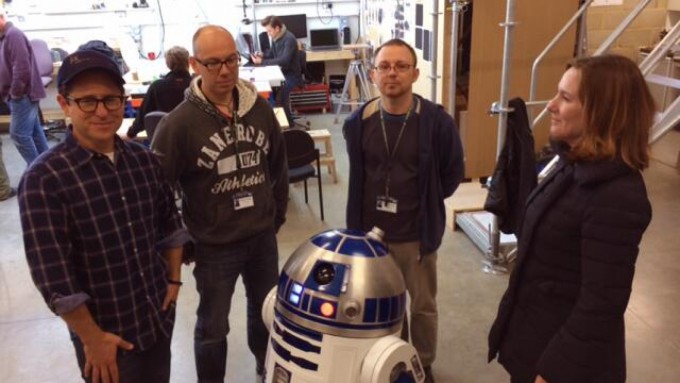 Naturally, the image got a lot of press and what did all of those headlines mention? That's right, FANS.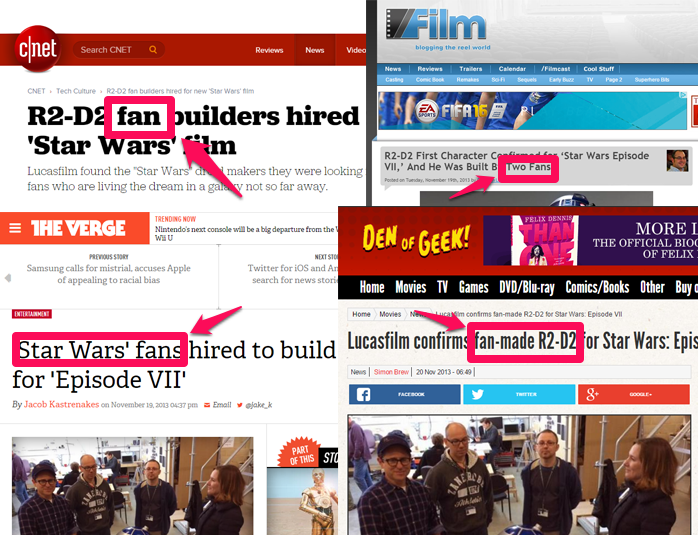 Boom. Strike one to Disney.
And when it was time to reveal the cast of the new film (in April 2014), they went even further to firstly, allay fan fears, and more importantly get them onboard and excited.
Luke Skywalker, Han Solo, Princess Leia, R2‐D2 (again)… and not a Gungan in site. Boom. Boom. Boom.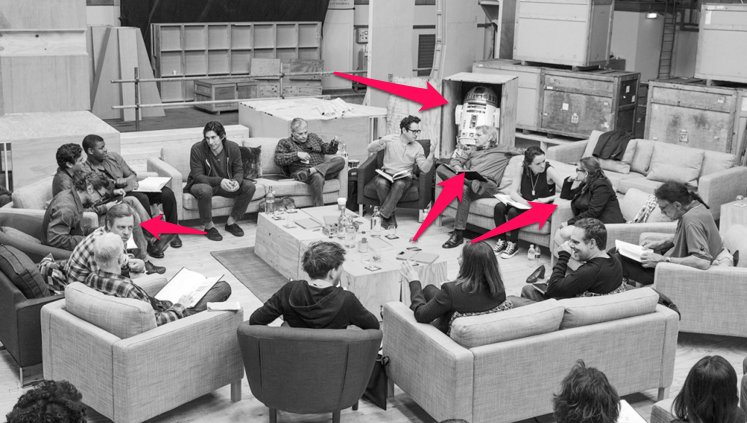 Needless to say, excitement levels went through the roof and the press lapped it all up.
Check out the Google trends spike for "Star Wars" corresponding with the release of the cast list.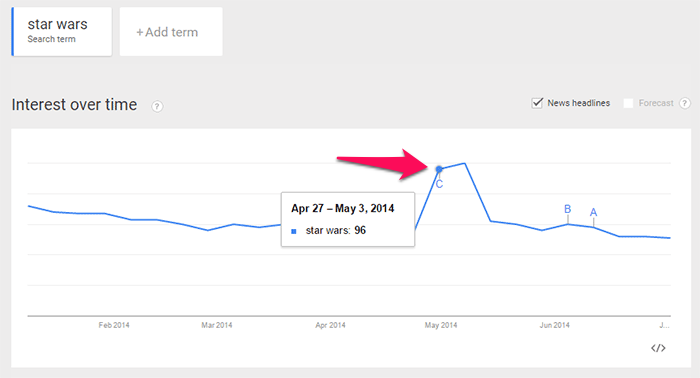 And for SEO fans, the page on starwars.com which released the photo and announced the cast has picked up over 900 referring domains.

I'm calling that a huge content marketing win.
Part 2: Filming
As production began on the movie, Disney teased fans with snippets from filming.
In fact, they started on day one with Director J.J.Abrams tweeting a photo of the very first slate.
#dayone pic.twitter.com/18jtSH7xYM

— Bad Robot (@bad_robot) May 16, 2014
A week later the Star Wars YouTube channel released a video message from J.J. which was another stroke of marketing genius.
The video was released to promote Disney's 'A Force For Change' — a charitable partnership with UNICEF which went on to raise over $5million for the kid's charity.
Not only did the initiative support a great cause, the video, which has amassed over 3.5million views, gave fans a sneak peak at a brand new alien character. To the delight of fans the new alien was definitely not CGI and confirmed the return to practical effects that J.J. had promised.
https://www.youtube.com/watch?v=XfNiC9iKM0Q
Naturally the good cause + sneaky reveal of a new alien lead to lot of positive press coverage.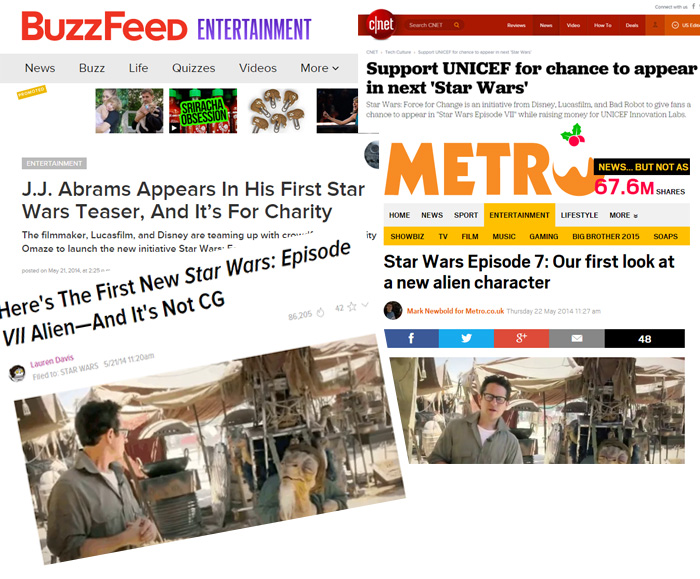 As production continued, images continued to be drip fed online to build anticipation for the movie. Some were officially released by Disney and some were not so officially released (maybe).
J.J. responded to the 'leaked' images by tweeting this absolutely brilliant photo with a message to fans:
— Bad Robot (@bad_robot) June 4, 2014
In case you don't know… that's the chess board from the Millenium Falcon in the background 🙂
The MILLENIUM FREAKING FALCON!
Don't think this is a great example of content marketing? Well check out the results of a Google image search for the picture shared in the tweet.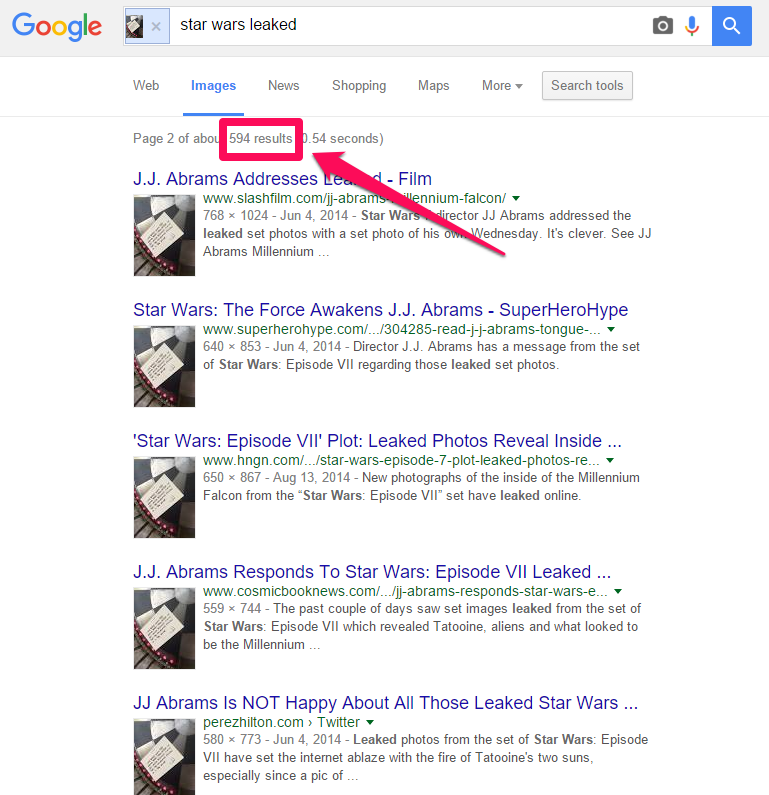 I call that a content marketing slam dunk.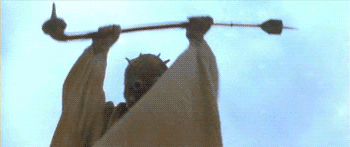 Part 3: The Teaser Trailers
While behind the scenes footage had built up excitement and got the fans onside, in the Winter of 2014 it was time for Disney's marketing machine to make the jump to light speed, with the release of the first teaser trailer.
I think it's safe to say that this has to be the most hotly anticipated minute or so of footage in movie history. Check out this Google News result showing results from the week leading up to the trailer's release.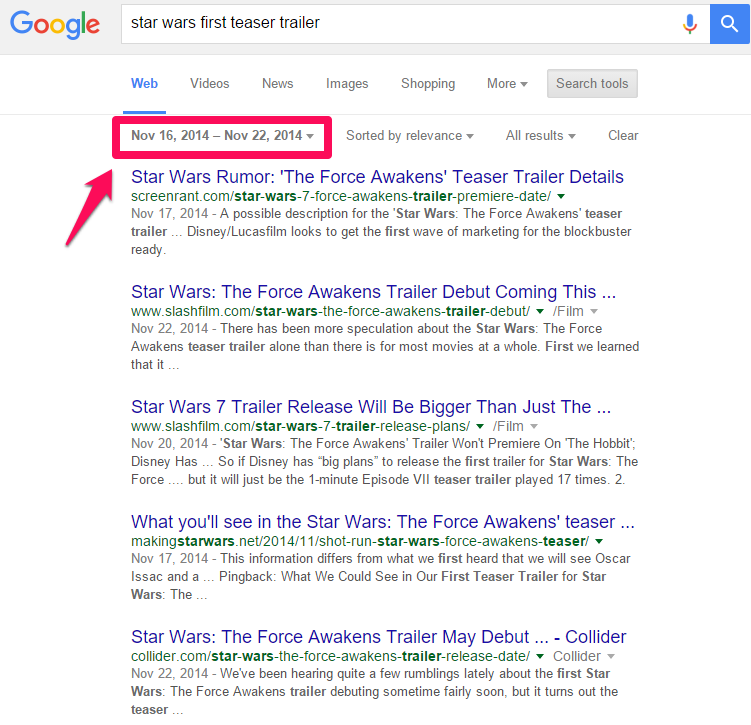 And when the trailer finally dropped on November 28th the Internet went into meltdown.
https://www.youtube.com/watch?v=erLk59H86ww
You probably dream about your content climbing to the top of Reddit's home page, but how about if you held spots 1 and 2…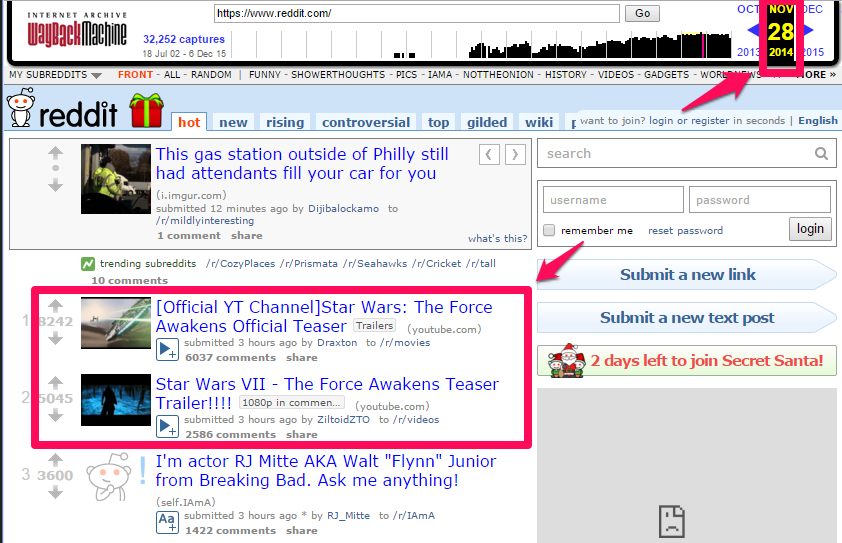 Suddenly that Google trends spike from April 2014 doesn't look quite so big.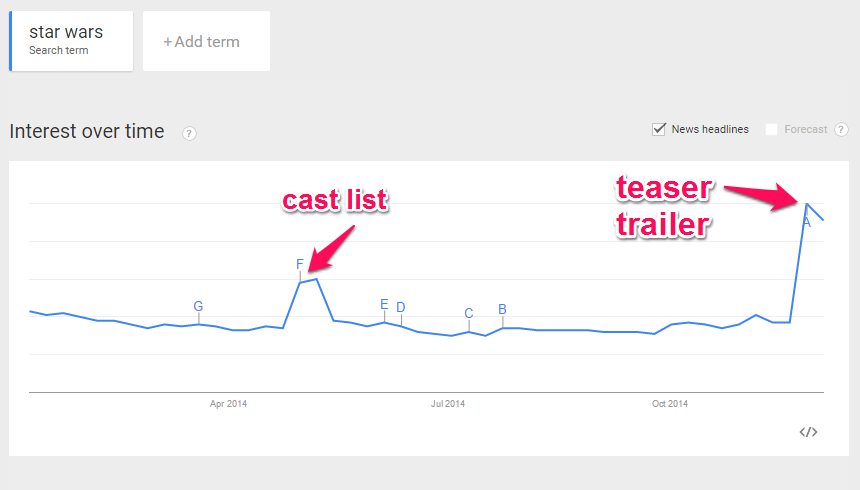 But as stoked as everyone was for the first glimpse of the new film, there was something that was conspicuously missing — the original trilogy's returning leads.
Slashfilm said of the teaser:
Not only do the human leads of the former trilogy not appear –Luke Skywalker (Mark Hamill), Han Solo (Harrison Ford), Princess Leia (Carrie Fisher), but the masked and costumed characters as well — Chewbacca (Peter Mayhew), C‐3PO (Anthony Daniels), R2‐D2 (Kenny Baker) or even Warwick Davis. We may recognize familiar yet‐updated ships, outfits, armor, and weapons but none of the characters we have come to love appear in this 88‐second trailer.
And of course this lead to speculation:
Apparently the classic trilogy characters will only make brief appearances in the marketing of the film — where they are and how they fit into the grand placement of the story is being protected.
Would we get to see any of the original leads before the film released?
Well, it turned out we didn't have to wait too long to find out the answer.
Teaser trailer 2 debuted in April of 2015 and not only did it include a voice‐over from Luke Skywalker, it ended with a final shot which once again set the internet off into a Star Wars frenzy…
https://www.youtube.com/watch?v=wCc2v7izk8w
Han Solo and Chewie in the Millenium Falcon! They may only have had one line each (Chewie of course was speaking Shyriiwook), but just look at what Han Solo's line did: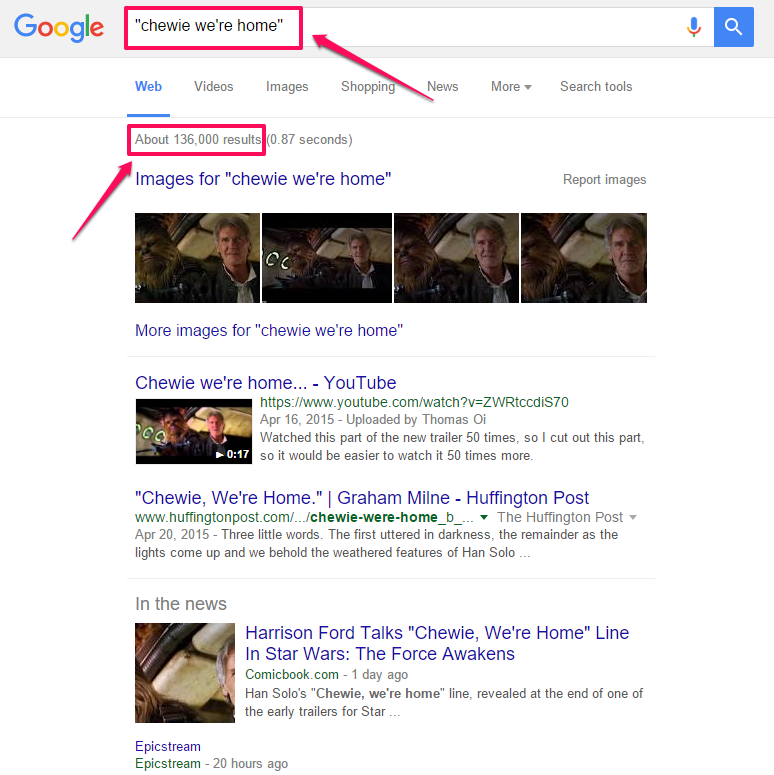 Remember how Neil Patel listed memes as one of his top content ideas? Well…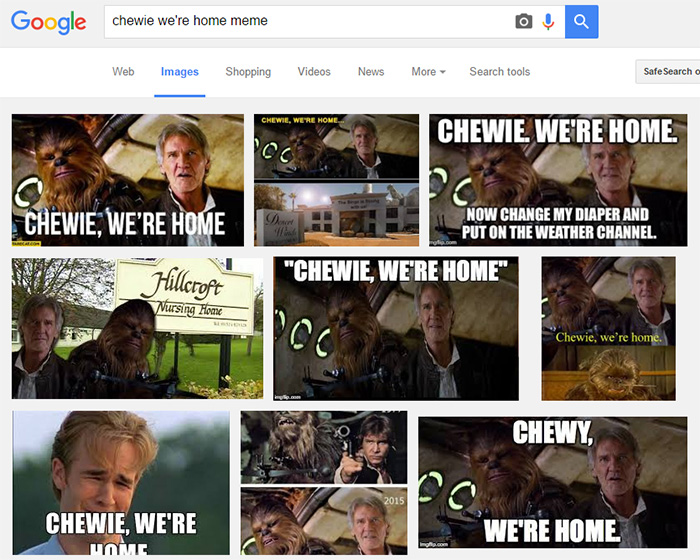 And when a line from your viral video inspires a range of T‐Shirts, it's safe to say that's a content marketing win.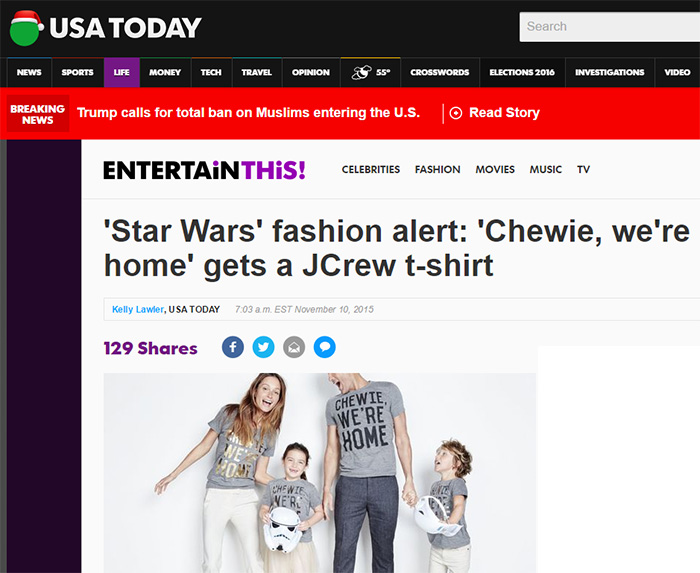 Disney's content marketing force had been well and truly awakened and if you want an idea of the impact this second teaser trailer had…
It added $2billion to Disney's stock value.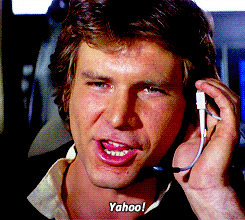 Part 4: Disney's Live Blog From Comic Con
The next big marketing push by Disney came at July's Comic Con.
In case you don't know Comic Con is:
"a multigenre entertainment and comic convention held annually in San Diego, California"
Or in more simple terms…
A massive geek fest!
There was only one thing on everyone's minds at this year's event — the 'Star Wars: The Force Awakens' panel which was set to take place on the Friday.
Disney capitalised on the hype by live blogging the event on the official Star Wars website.
Using Ahrefs Content Explorer we can see that the live blog picked up over 7,000 shares and links… nice 🙂

And naturally the Star Wars panel received a whole galaxy's worth of mentions in the world's press.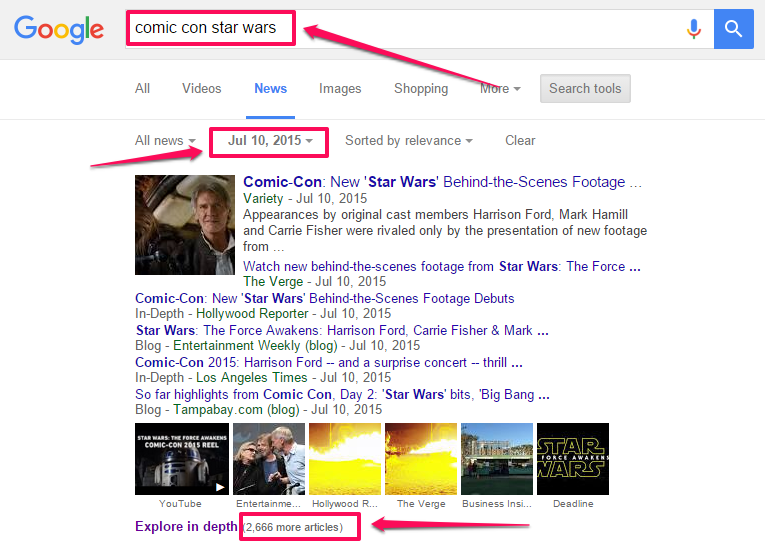 Another HUGE win for Disney!
Part 5: Theatrical Poster And Full Trailer
In October we entered the final phase of Disney's marketing push for The Force Awakens.
With just 2 months until the worldwide release of the film (December 18th), it was time for the unveiling of a full theatrical trailer and the release of pre‐sale tickets.
But just before the trailer was released, Disney unveiled the official logo and poster for the new film on the Star Wars website.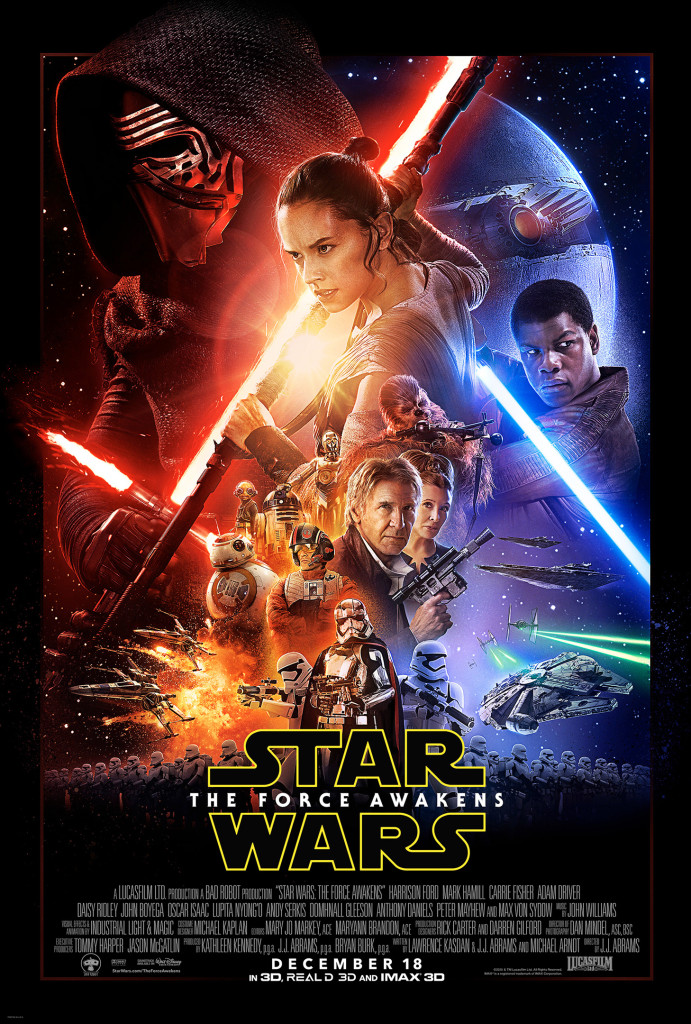 Once again, J.J.Abrams was keeping some secrets locked away in the mystery box, as there was an obvious lead character missing from the poster: Luke Skywalker.
This of course lead to lots of speculation and column inches.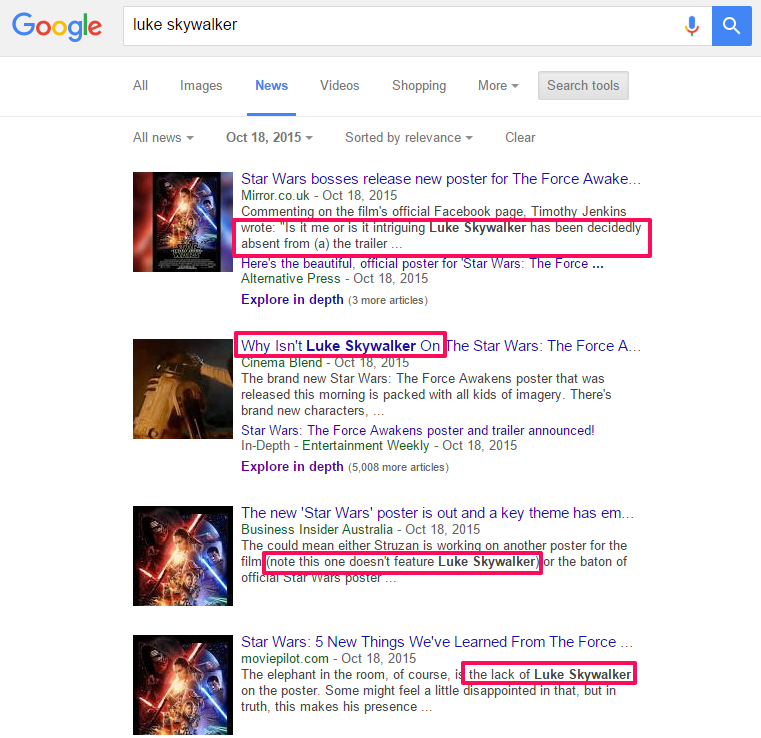 And a load of nice juicy links to the announcement on the Star Wars website.

That mystery box really does work wonders!
The day after the poster reveal, it was time for the full trailer…
https://www.youtube.com/watch?v=sGbxmsDFVnE
Now if the teasers had broken the internet, this time it was like the web had taken a direct hit from the Death Star.
The trailer was EVERYWHERE.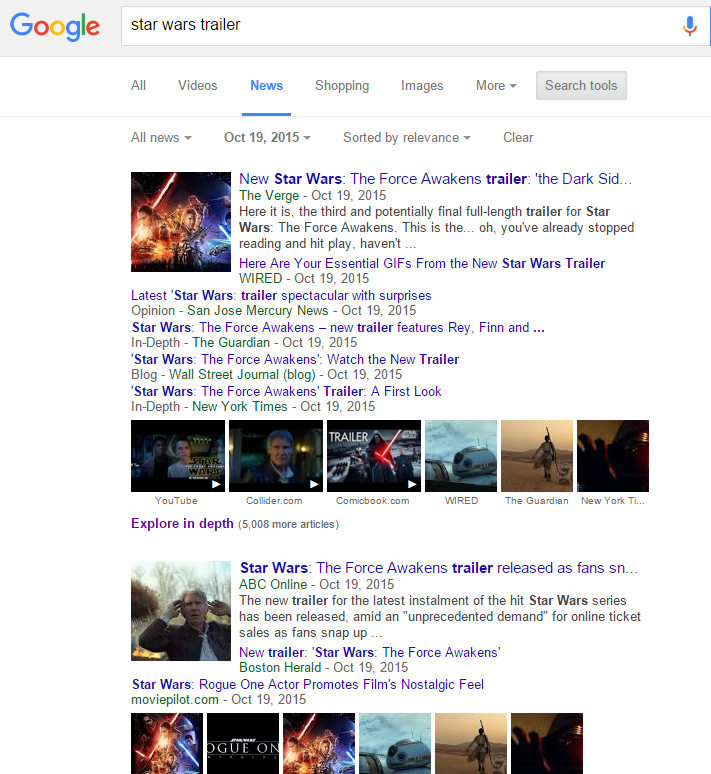 And the whole world was talking about (and of course searching for) it.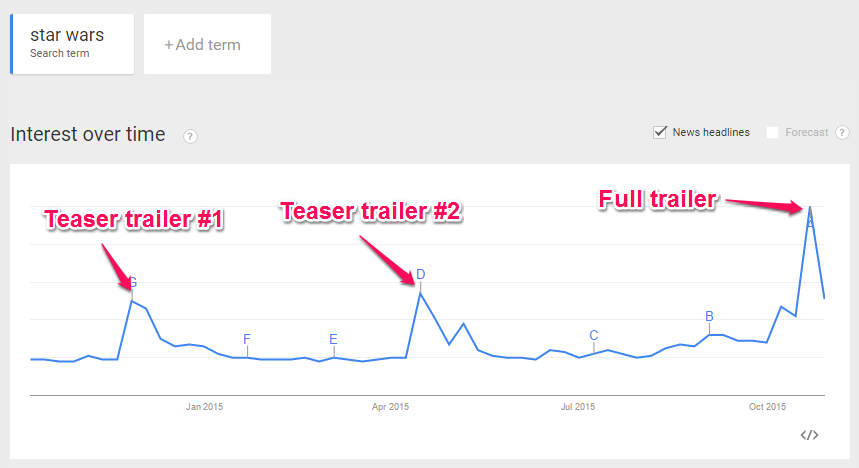 Check out dem shares!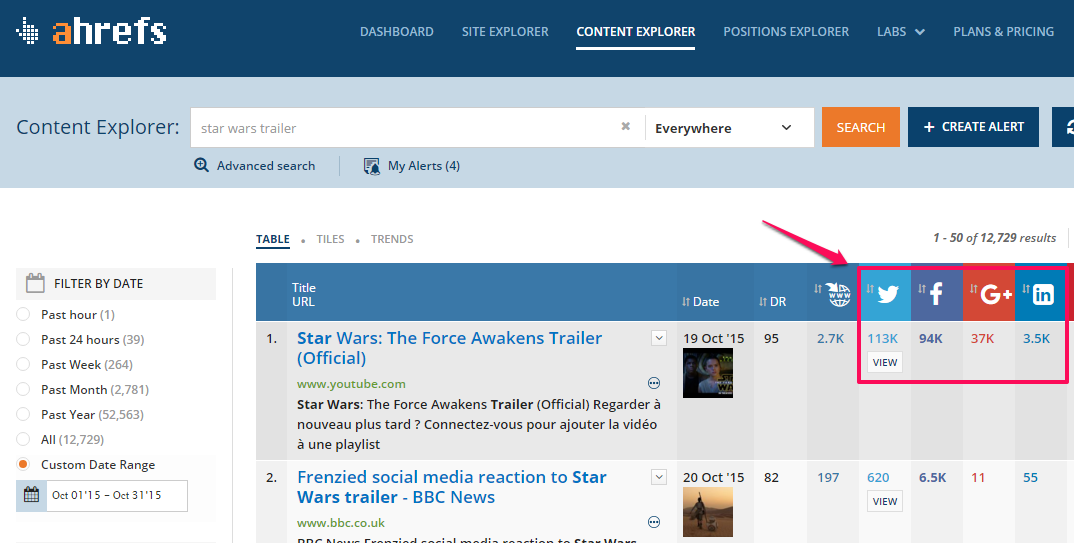 The trailer has been viewed almost 70million times on the Star Wars youtube channel.

But the biggest talking point… STILL no Luke Skywalker.
And 6 weeks later, just a week before the film debuts, that remains the case.
Quite frankly, the mystery 'where is Luke Skywalker' is driving fans crazy!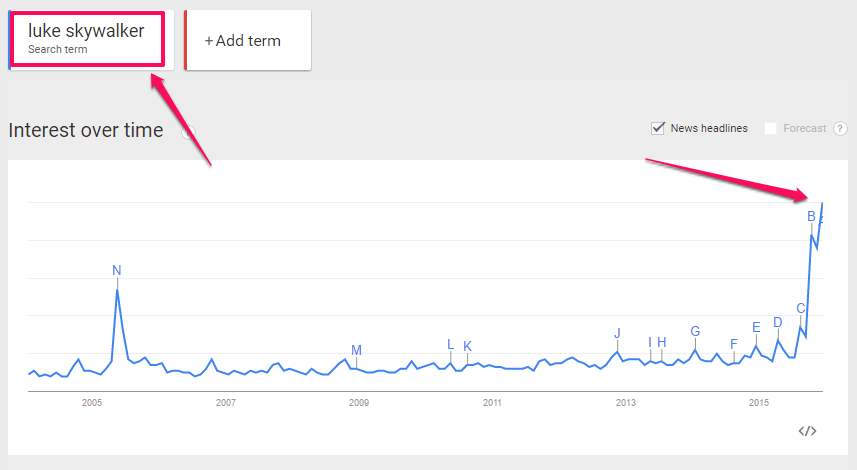 And the media of course are lapping it up…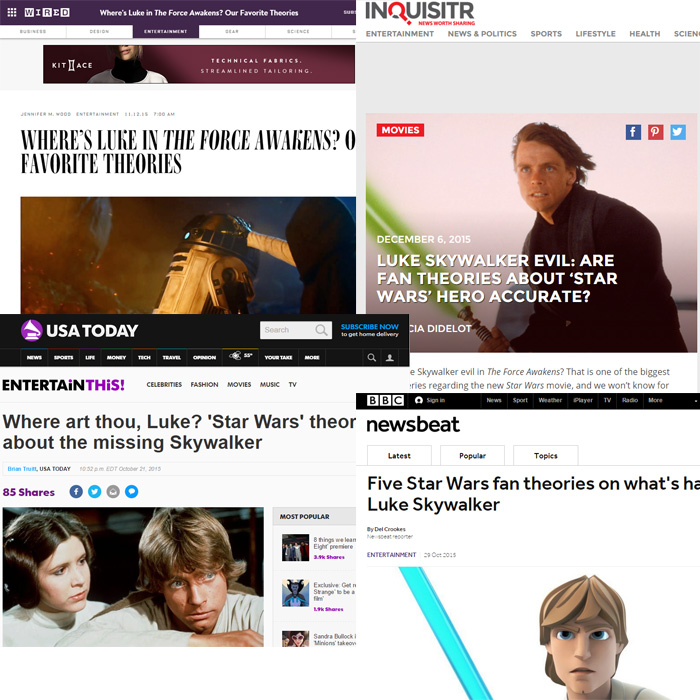 Once again, J.J.Abrams mystery box approach to marketing has worked its magic.
But… But… Star Wars!
Disney have strategically released (and held back) content over the past year to build up a media and fan frenzy around The Force Awakens, which will reach its climax on December 18th with the movie's release.
I know it's Star Wars and yes, that's naturally going to attract a lot of coverage anyway, but if you consider the way they have planned the roll out of information and got the fans firmly on board I would say it is nothing short of a content marketing masterclass.
So, just one more piece of content to come:
The movie.
Will it live up to the massive expectation which now surrounds it?
We'll find out next week!
Over To You
What do you think of Disney's content marketing strategy for The Force Awakens. Do you agree that it is one of THE best content marketing examples of all time? Are you as excited for the new film as I am? Let me know in the comments. In the mean time…
…I'm off to watch The Empire Strikes Back.